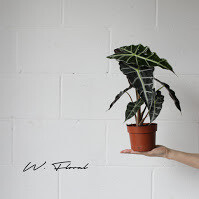 5.5" Alocasia Polly (Elephant Ears)
SKU 80149
Product Details
A striking and beautiful houseplant, Alocasia x amazonica 'Polly' (Amazonian Elephant Ear) is a robust rhizomatous evergreen perennial with dark green, narrowly arrow-shaped, wavy-edged leaves, adorned with ribs and margins marked in bright creamy white.
Pot Size: 5" in

Plant Height (measured from the bottom of the pot): 12" - 15"
** Plants vary slightly in size, shape and colour. You may not receive the exact plant shown in the product photo **

---
Special Notes:
Complimentary Gift Tags available. If this is a gift, select the gift tag and we will have it plucked-in the pot.
Want to gift the plant with a fancy outer pots, check out our pot selection here.
We try our best to arrange plant delivery within 48 hours after order is placed. You will receive an notification email for delivery date and time.
Save this product for later