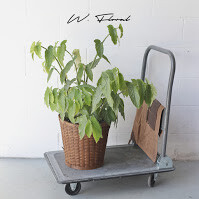 10" Begonia Angel Wing Bush
SKU 80044
Product Details
It doesn't seem like it, but mottled spurge is a shrub, not a cactus. This is due to the presence of sap and the absence of large flowers. Also unlike cacti, Euphorbia lactea is a tropical plant. It's native to India, Sri Lanka, and other areas in tropical Asia.
Pot Size: 10" in

Plant Care:
| | |
| --- | --- |
| Planting Difficulty | ★ |
| Soil Requirements | Well-draining |
| Watering Frequency | Angel wing begonia containers must have drip holes in the bottom for proper drainage and the plant should never sit in water. When over-watered, the leaves turn yellow and fall off. |
| Light Conditions | Bright Indirect Sun |
| Temperature | 65°-75°F (18.3°-23.9°C) |
| Fertilization | Feed monthly in the spring and summer when ian angel wing begonia is actively growing with a liquid plant food high in potassium. Fertilize every other month during the rest of the year. |
| Pest and Disease Control | Insecticidal soap is recommended if mealy bugs shown. |
** Plants vary slightly in size, shape and colour. You may not receive the exact plant shown in the product photo **

---
Special Notes:
Complimentary Gift Tags available. If this is a gift, select the gift tag and we will have it plucked-in the pot.
Want to gift the plant with a fancy outer pots, check out our pot selection here.
We try our best to arrange plant delivery within 48 hours after order is placed. You will receive an notification email for delivery date and time.
Save this product for later